When testing receiver audio latency, I noticed that some receivers were able to extract low frequencies of an analog stereo source to send to a subwoofer with zero delay to the left and right speakers. This took me by surprise, because I expected the low frequencies for the subwoofer to be digitally extracted from the analog source signal, which would take some amount of time. This lead me to suspect that there might be an offset on the subwoofer's output compared to the output of the left and right speakers when extracting low frequencies to create a 2.1 output from a 2.0 input.
I tested a few receivers for an offset on the subwoofer's output and the results were interesting. All receivers seem to have some amount of an offset to the subwoofer, even when operating in Direct 5.1 mode where there is a dedicated subwoofer channel in the audio stream. This offset, as I suspected, was almost always larger when the receiver needed to extract low frequency sounds, i.e. from a stereo input.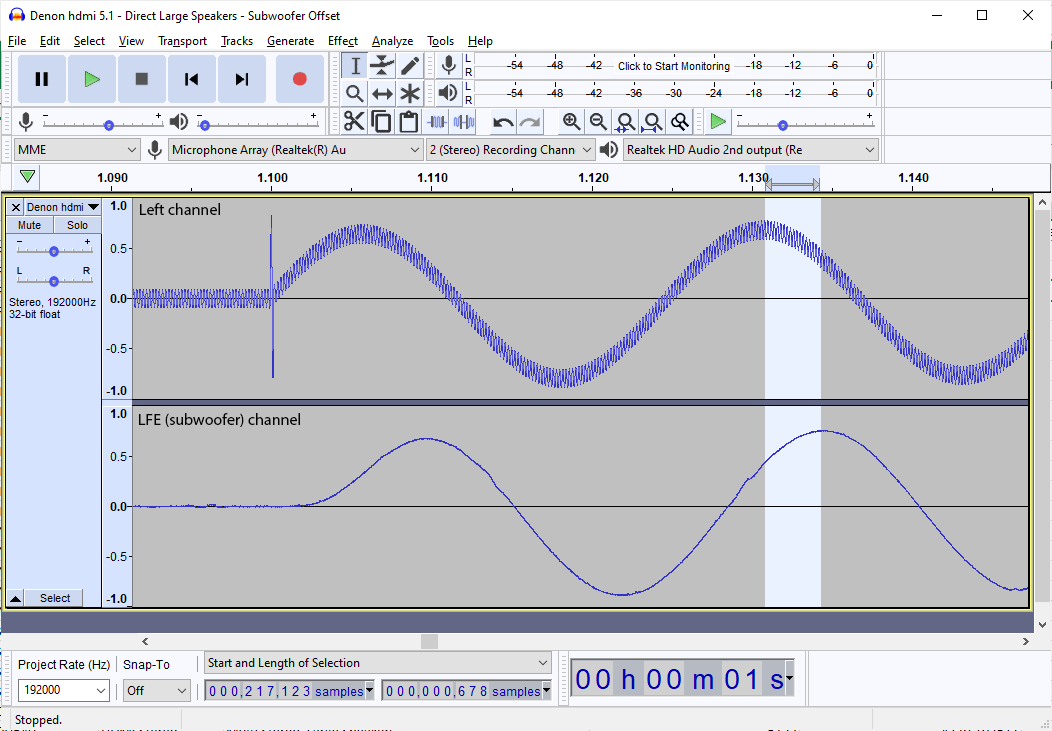 I expected that the Audyysey speaker calibration on my Marantz receiver would be able to detect this offset and correct it by calibrating my subwoofer position to be a further distance, thus adding a delay to other speakers. Unfortunately, it seemed to only detect a 0.6 foot difference, which may have been partially due to my physical speaker placement, and did not negate the offset entirely. Strangely, only when operating in small speaker stereo mode, my subwoofer offset measurements for this receiver are much higher than other modes, but also much lower than expected with the distance setting applied. Put simply, further testing is needed to understand this subwoofer offset behaviour and how it is resolved by speaker calibration.

Here's a full list of my measurements for a few different receivers in CSV format and in a Goolge Sheet.
While I was reviewing these measurements, I took note of some other behaviours that the receivers had. One of the receivers, the Pioneer VSX-933, defaulted to an inverted phase on its subwoofer output, but only for some input types/sound modes.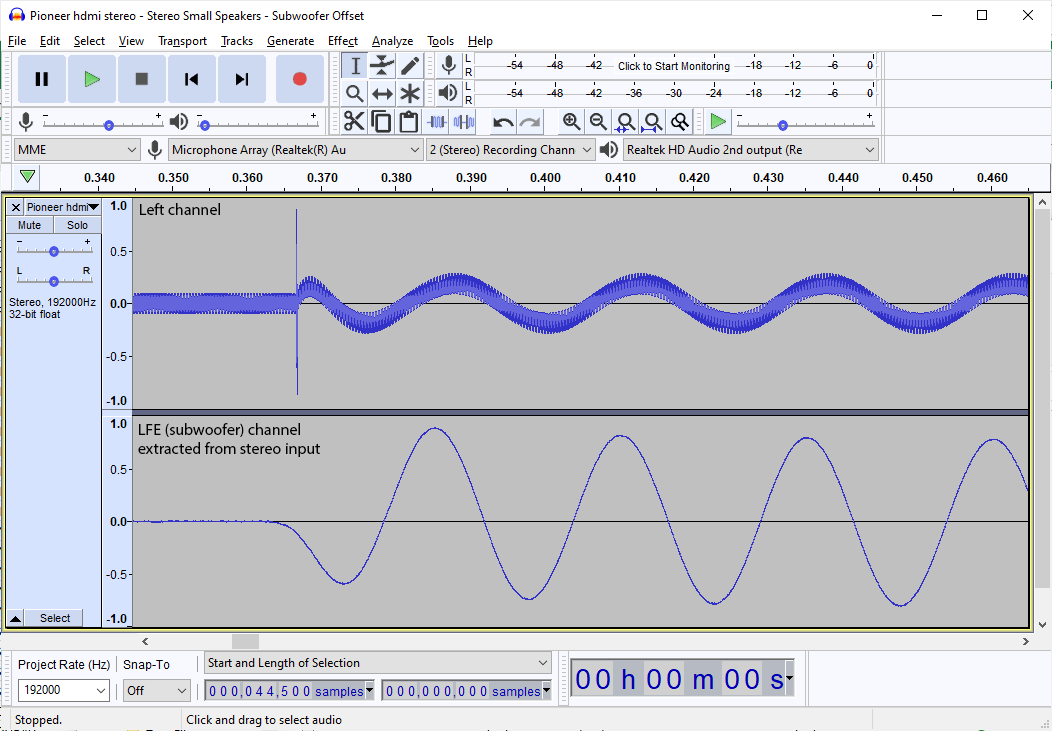 Also, all but the older Sony STR-DH540 filtered its subwoofer output with a low pass filter when it was configured to have large speakers and a dedicated subwoofer channel on the HDMI input.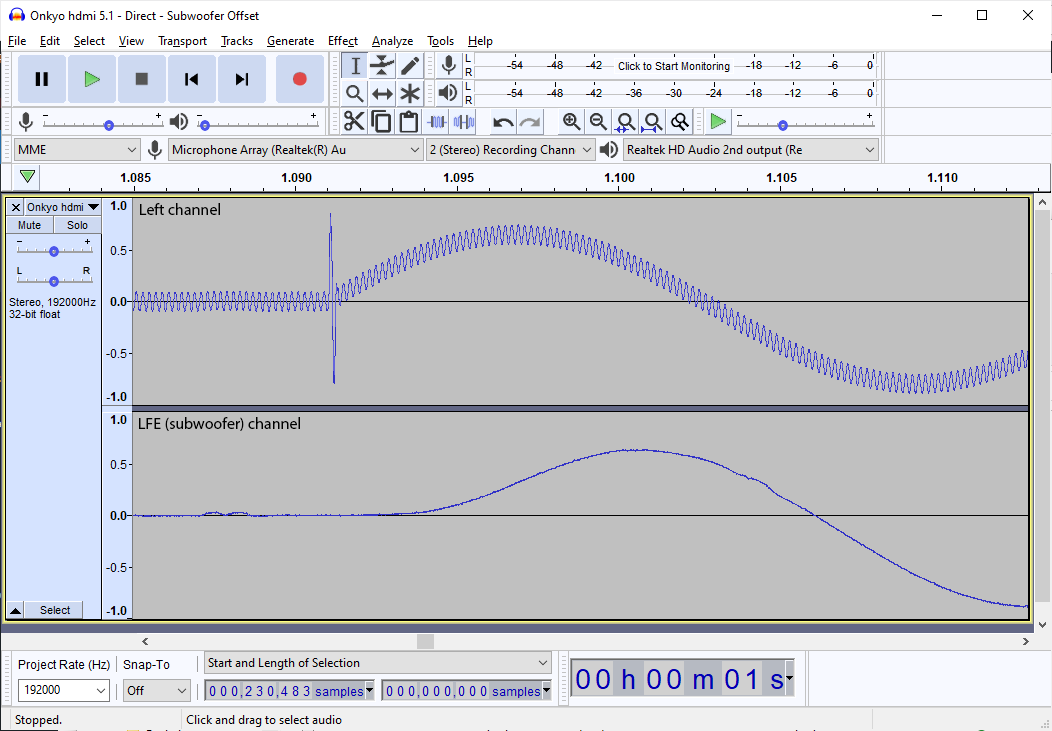 For some receivers, especially the Marantz NR1711, the subwoofer output was very noisy with high frequencies when extracting a LFE channel from a stereo input.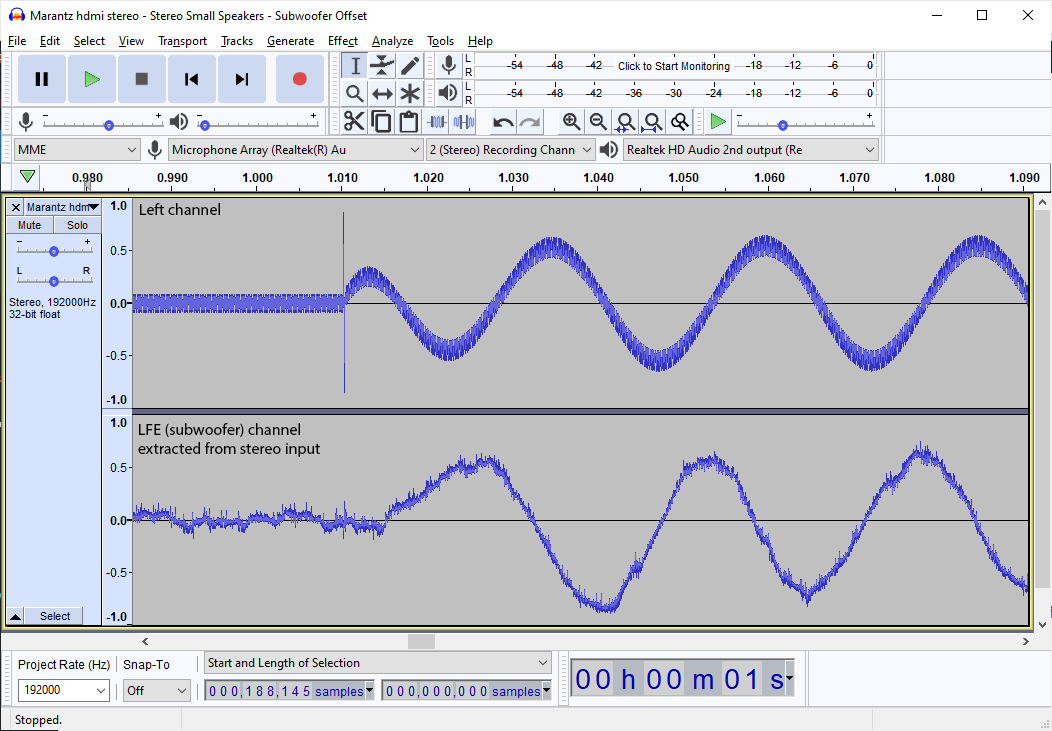 One last behaviour I found quite interesting was a modification of the low frequency sound in the left and right channels when extracting a LFE channel from a stereo input. It seems as if the low frequency sound wave is compressed at the beginning of output. This type of behaviour existed in all receivers that I tested, but it was least notable in the older Sony STR-DH540.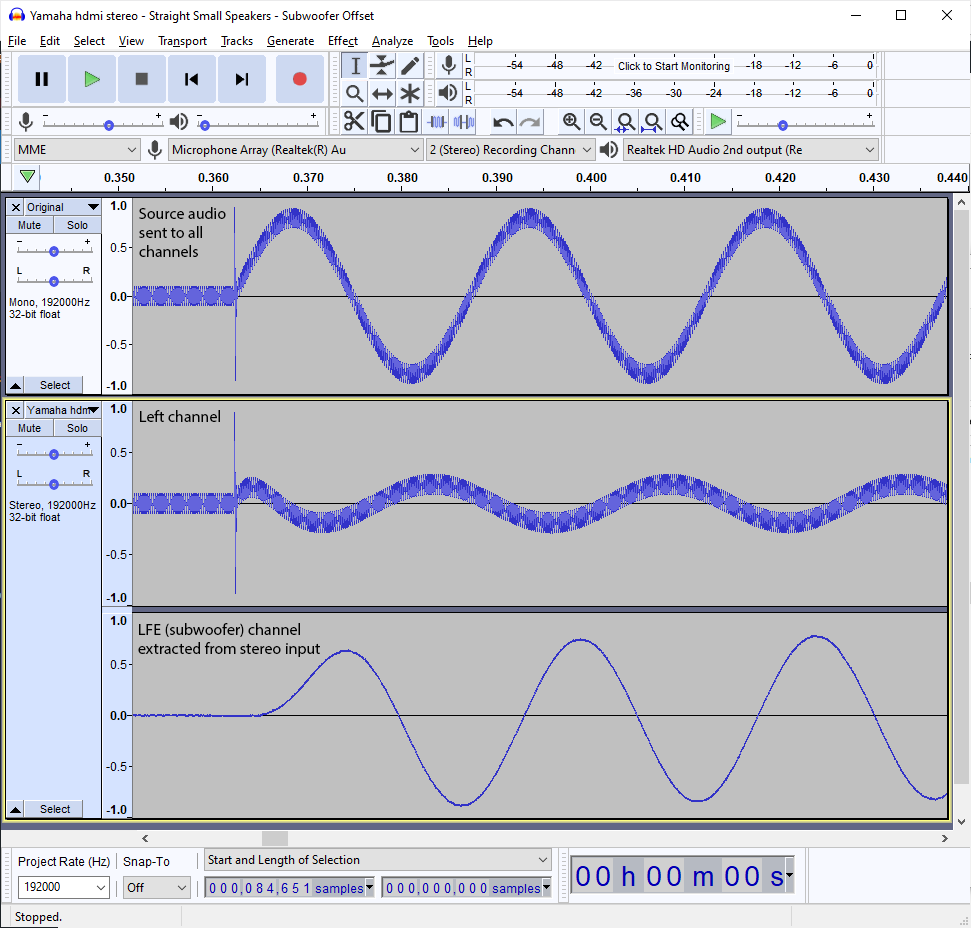 There are many challenges of making a good DAC, especially one that can separate out an LFE channel from stereo with minimal delay. I don't know why these behaviours are common and I also don't know if they may effect sound quality and crossover behaviour in a real-world situation. Regardless, it seems that even a simple "Pure Direct" mode on a receiver with a dedicated LFE channel on your input signal may result in slight offset between main and LFE channels.